Introduction:
Hey, last year I visited Hallstatt. My experience was so good. If you're planning a trip to Austria, there's one destination that should not be missed – the Salzburg to Hallstatt day trip. This picturesque village, nestled in the Austrian Alps, is known for its stunning landscapes, charming architecture, and rich history. And what better way to experience the magic of Hallstatt than by taking a day trip from Salzburg? As a seasoned traveler who has embarked on this adventure, I can assure you that it's an experience you won't forget. So, let's delve into the details of this awe-inspiring journey!
Salzburg to Hallstatt Tour
The Journey Begins: From Salzburg to Hallstatt
The journey from Salzburg to Hallstatt is a treat in itself. When I leave the bustling city of Salzburg behind, I find myself surrounded by majestic mountains, lush greenery, and glistening lakes. The scenic drive takes me through quaint villages, alpine meadows, and enchanting forests, providing a visual feast for nature lovers.
Pit Stop at Wolfgangsee: A Serene Lake Retreat
On my way to Hallstatt, I pass by Wolfgangsee, a pristine lake located in the heart of the Salzkammergut region. This picturesque lake is a popular retreat for locals and tourists alike, with its crystal-clear waters and stunning mountain backdrop. 
Okay, when you go, Take a moment to stop and soak in the tranquil atmosphere, perhaps by indulging in a leisurely stroll along the lake promenade or savoring a cup of Austrian coffee at one of the cozy cafes.
Arriving in Hallstatt: A Fairy Tale Come to Life
I approached Hallstatt, and really I was greeted by a scene straight out of a fairy tale. Nestled on the shores of Lake Hallstatt, this UNESCO World Heritage Site is renowned for its picture-perfect setting. 
 its charming pastel-colored houses, towering mountains, and the iconic Hallstatt Skywalk offering panoramic views of the village and the lake below.
Exploring the Old Town: A Step Back in Time
Hallstatt's Old Town is a treasure trove of history and culture, with its well-preserved medieval buildings and narrow cobblestone streets. Take a leisurely stroll through the town and soak in the atmosphere as you discover its unique landmarks. 
the Market Square, the Catholic Church of Hallstatt, and the Hallstatt Museum, which houses a fascinating collection of artifacts from the region's prehistoric past.
The Hallstatt Bone House: An Eerie Yet Intriguing Attraction
One of the most intriguing attractions in Hallstatt is the Hallstatt Bone House, also known as the Hallstatt Beinhaus. This small chapel is adorned with over 1,200 skulls, each intricately painted with floral motifs and displayed as a testament to Hallstatt's unique burial customs. Although it may seem eerie, it's a fascinating insight into the village's rich history and traditions.
A Boat Ride on Lake Hallstatt: Captivating Views from the Water
A visit to Hallstatt is incomplete without exploring Lake Hallstatt. Embark on a boat ride and be captivated by the breathtaking views of the surrounding mountains, mirrored in the pristine waters of the lake. 
As you cruise along, you'll pass by charming lakeside houses, secluded coves, and towering waterfalls, offering a unique perspective of this idyllic destination.
Hiking to the World Heritage View: A Panoramic Delight
For those seeking adventure, a hike to the World Heritage Viewpoint is a must. The trail takes you through lush forests and rocky paths, rewarding you with panoramic vistas of the entire village of Hallstatt and Lake Hallstatt below. 
It's a challenging hike, but the breathtaking scenery along the way and the sense of accomplishment upon reaching the viewpoint make it worth every step.
Culinary Delights: Sampling Hallstatt's Local Cuisine
After a day of exploration, it's time to indulge in Hallstatt's local cuisine. The village is known for its delicious traditional Austrian dishes, including schnitzel, goulash, and strudel. 
There are numerous cozy restaurants and cafes in Hallstatt where you can savor these culinary delights, along with locally brewed beer or Austrian wine. Don't miss the opportunity to treat your taste buds to the authentic flavors of the region.
Shopping for Souvenirs: Taking a Piece of Hallstatt Home
No trip is complete without bringing back some souvenirs to cherish the memories. Hallstatt is known for its unique handmade crafts and traditional products, including intricate wood carvings, delicate lacework, and exquisite ceramics. Explore the local shops and markets to find the perfect keepsake to take home and remind you of your Hallstatt adventure.
Capturing Memories: Photography Paradise
Hallstatt is a photographer's paradise, with its stunning landscapes, picturesque architecture, and breathtaking views. Be sure to bring your camera or smartphone to capture the magical moments during your day trip. 
From the charming pastel-colored houses to the reflections on Lake Hallstatt, every corner of this village is a picture-perfect postcard. 
Don't forget to share your photos on social media or create a travel journal to document your Salzburg to Hallstatt day trip experience. For taking good photos you can use a telescope for your phone.
Practical Tips for Your Salzburg to Hallstatt Day Trip
Here are some practical tips to ensure you make the most of your day trip from Salzburg to Hallstatt:
Plan your itinerary: Hallstatt is a small village, and most of its attractions can be explored in a day. However, it's best to plan your itinerary in advance to make sure you visit all the must-see spots.

Start early: To avoid crowds, start your day trip early in the morning. This will also give you ample time to explore Hallstatt at a leisurely pace and take in the beauty of the surroundings.

Wear comfortable shoes: Hallstatt has narrow streets and uneven terrain, so be sure to wear comfortable walking shoes or hiking boots, especially if you plan to hike to the World Heritage Viewpoint.

Bring cash: While most places in Hallstatt accept credit cards, it's always handy to have some cash on hand for small purchases or if you plan to visit the Bone House, as it only accepts cash for admission.

Check transportation options: There are several ways to get from Salzburg to Hallstatt, including by car, train, or bus. Check the schedules and fares in advance to choose the option that best suits your preferences and budget.

Pack for the weather: Hallstatt's weather can be unpredictable, so be prepared for changes in temperature and pack accordingly. It's always a good idea to bring a rain jacket, sunscreen, and a hat, as well as extra layers of clothing.
How long is the travel from Salzburg to Hallstatt by train?
The train journey from Salzburg to Hallstatt typically takes approximately 2.5 to 3 hours, with one transfer at Attnang-Puchheim. The duration of the trip may vary depending on the specific train schedule, route, and any potential delays. It's always a good idea to check the current timetable and plan your trip accordingly to ensure a smooth and enjoyable journey.
Is a day trip to Hallstatt worth it?
A day trip to Hallstatt from Salzburg can be a worthwhile experience if you are interested in Scenic Beauty, History and culture, Activities, Quaint Village Atmosphere, and Unique Photo Opportunities. 
However, it's important to note that Hallstatt can be crowded with tourists, especially during peak seasons, and the village's small size means it can be explored relatively quickly. If you want a more relaxed and immersive experience, consider staying overnight in Hallstatt to appreciate its beauty and ambiance fully.
How many hours is enough in Hallstatt?
Hallstatt is a small village, and while it offers stunning natural beauty and rich cultural heritage, it can be explored in a relatively short amount of time. The ideal amount of time to spend in Hallstatt depends on your interests, travel style, and what you wish to do and see during your visit.
If you are on a day trip from Salzburg or nearby locations, you can plan to spend around 4-6 hours in Hallstatt to get a taste of its main attractions and soak in the village's charm. 
If you have more time to spare and want to have a more immersive experience, consider staying overnight in Hallstatt. This would give you the opportunity to explore the village at a more relaxed pace, take part in additional activities such as hiking or boating, and enjoy the tranquil ambiance of the village during the early morning or evening when the day-trip tourists have left.
Is Hallstatt closer to Vienna or Salzburg?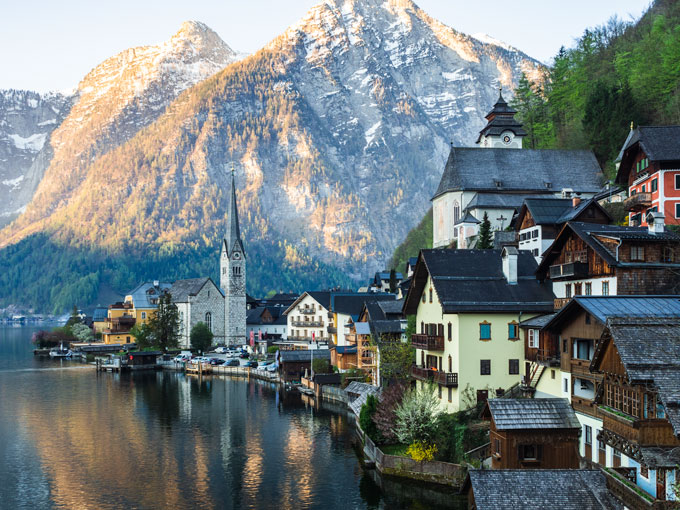 Hallstatt is closer to Salzburg than Vienna. Salzburg is located in western Austria, near the border with Germany, while Vienna is the capital of Austria and is located in the eastern part of the country.
The distance between Salzburg and Hallstatt is approximately 75 kilometers (46 miles), and the travel time by train or car is typically around 2.5 to 3 hours, depending on the mode of transportation and the specific route taken.
On the other hand, the distance between Vienna and Hallstatt is approximately 300 kilometers (186 miles), and the travel time by train or car is significantly longer, typically around 3.5 to 4 hours, depending on the mode of transportation and the specific route taken.
Conclusion: 
Salzburg to Hallstatt day trip is an unforgettable experience that will leave you mesmerized by the natural beauty, rich history, and charm of this Austrian gem. From the scenic drive through the Alpine landscapes to exploring the old town, taking a boat ride on Lake Hallstatt, hiking to panoramic viewpoints, and indulging in local cuisine, Hallstatt offers something for every traveler. 
So, if you're planning a trip to Austria, be sure to include a day trip to Hallstatt in your itinerary, and get ready for a magical adventure you won't forget.
For more information read our related article:
Fun Things to Do in Destin When it Rains: A Guide to Rainy Day Activities
The Best European Travel Accessories: A Comprehensive Guide
How To Choose The Best Walkie-Talkies For Road Trips