Introduction:
Nestled in the heart of the Rocky Mountains, Breckenridge is a picturesque mountain town in Colorado that offers an abundance of outdoor adventures and breathtaking scenery. While Breckenridge itself is a destination worth exploring, the surrounding area is also teeming with natural wonders and attractions that are perfect for day trips. As a local resident and avid explorer, I've had the pleasure of embarking on many day trips from Breckenridge, and I'm excited to share my experiences with you.
Day Trips from Breckenridge: A Journey Through Colorado's Natural Wonders
Discovering the Majesty of Rocky Mountain National Park
One of the most iconic destinations near Breckenridge is Rocky Mountain National Park, a stunning wilderness area that spans over 415 square miles. Just a scenic 2-hour drive from Breckenridge, this national park offers a plethora of outdoor activities for nature enthusiasts. From hiking to wildlife viewing to simply taking in the awe-inspiring vistas, there's something for everyone here.
One of my favorite hikes in Rocky Mountain National Park is the Emerald Lake Trail. This moderate 3.6-mile round-trip hike takes you through pristine alpine forests and along babbling streams, leading to a series of stunning emerald-green lakes surrounded by towering peaks. The views along the trail are simply breathtaking, and I highly recommend packing a picnic to enjoy by the lakeside.
 Exploring the Enchanting Garden of the Gods
Located about 2 hours south of Breckenridge, Garden of the Gods is a mesmerizing natural wonder that will transport you to a surreal landscape. This iconic park features towering red rock formations that have been sculpted by erosion over millions of years, creating a unique and otherworldly setting.
I was mesmerized by the beauty of Garden of the Gods as soon as I arrived. The park offers a variety of paved and unpaved trails that allow you to explore the formations up close. The Perkins Central Garden Trail is a popular choice, as it takes you on a loop through the heart of the park, showcasing some of the most famous rock formations such as the Balanced Rock and the Siamese Twins. Along the way, you'll also encounter an abundance of flora and fauna, making for a truly enchanting experience.
Unwinding in the Soothing Hot Springs of Glenwood Springs
If you're in the mood for relaxation and rejuvenation, a visit to the nearby town of Glenwood Springs is a must. Just a scenic 2.5-hour drive from Breckenridge, Glenwood Springs is famous for its natural hot springs, which are said to have healing properties and offer a soothing respite from the hustle and bustle of everyday life.
One of my favorite hot springs in Glenwood Springs is the Glenwood Hot Springs Pool, which is the world's largest mineral hot springs pool. The water is a constant 90 degrees Fahrenheit and is rich in minerals, making it incredibly therapeutic and soothing. I spent hours soaking in the warm waters, surrounded by the majestic mountains, and felt completely rejuvenated afterward.
For more check this video!
Embarking on an Alpine Adventure in Aspen
If you're up for a scenic drive through the stunning Colorado mountains, a Day Trip from Breckenridge to Aspen is a fantastic choice. Located about 1.5 hours southwest of Breckenridge, Aspen is a world-renowned ski resort town that offers a wide array of outdoor adventures year-round.
During the warmer months, Aspen is a haven for hiking and biking enthusiasts. The Maroon Bells, a pair of iconic peaks, is a must-visit destination. The Maroon Lake Scenic Trail is a relatively easy 1.8-mile loop that takes
Complete this and don't repeat previous information
you around the picturesque Maroon Lake, offering stunning views of the towering Maroon Bells reflecting in the calm waters. The scenery is simply breathtaking, and it's no wonder that the Maroon Bells are often referred to as the most photographed peaks in North America.
For a more adrenaline-pumping adventure, you can also try your hand at white-water rafting in the nearby Roaring Fork River, or go mountain biking on the extensive network of scenic trails that crisscross the surrounding mountains. And if you visit Aspen during the winter months, you can take advantage of world-class skiing and snowboarding opportunities in the nearby Aspen Snowmass ski resort, known for its challenging slopes and picturesque scenery.
Soaking in the History and Culture of Leadville
Located just about an hour south of Breckenridge, Leadville is a historic mining town that offers a glimpse into Colorado's rich mining heritage. With its well-preserved Victorian architecture and charming downtown, Leadville is a delightful destination for history buffs and culture enthusiasts.
One of the must-visit attractions in Leadville is the National Mining Hall of Fame and Museum, which showcases the history and technology of mining through interactive exhibits and displays. You can learn about the challenges and triumphs of the miners who once called Leadville home, and gain a deeper appreciation for the role that mining played in shaping Colorado's history.
Leadville is also known for its scenic outdoor recreational opportunities. You can take a scenic drive along the Top of the Rockies Scenic Byway, which offers breathtaking views of the surrounding mountains and valleys. Or, if you're up for a challenge, you can hike to the top of Colorado's highest peak, Mount Elbert, which towers at 14,440 feet above sea level. The views from the summit are truly awe-inspiring and well worth the effort.
Chasing Waterfalls in the Beautiful Box Canyon Falls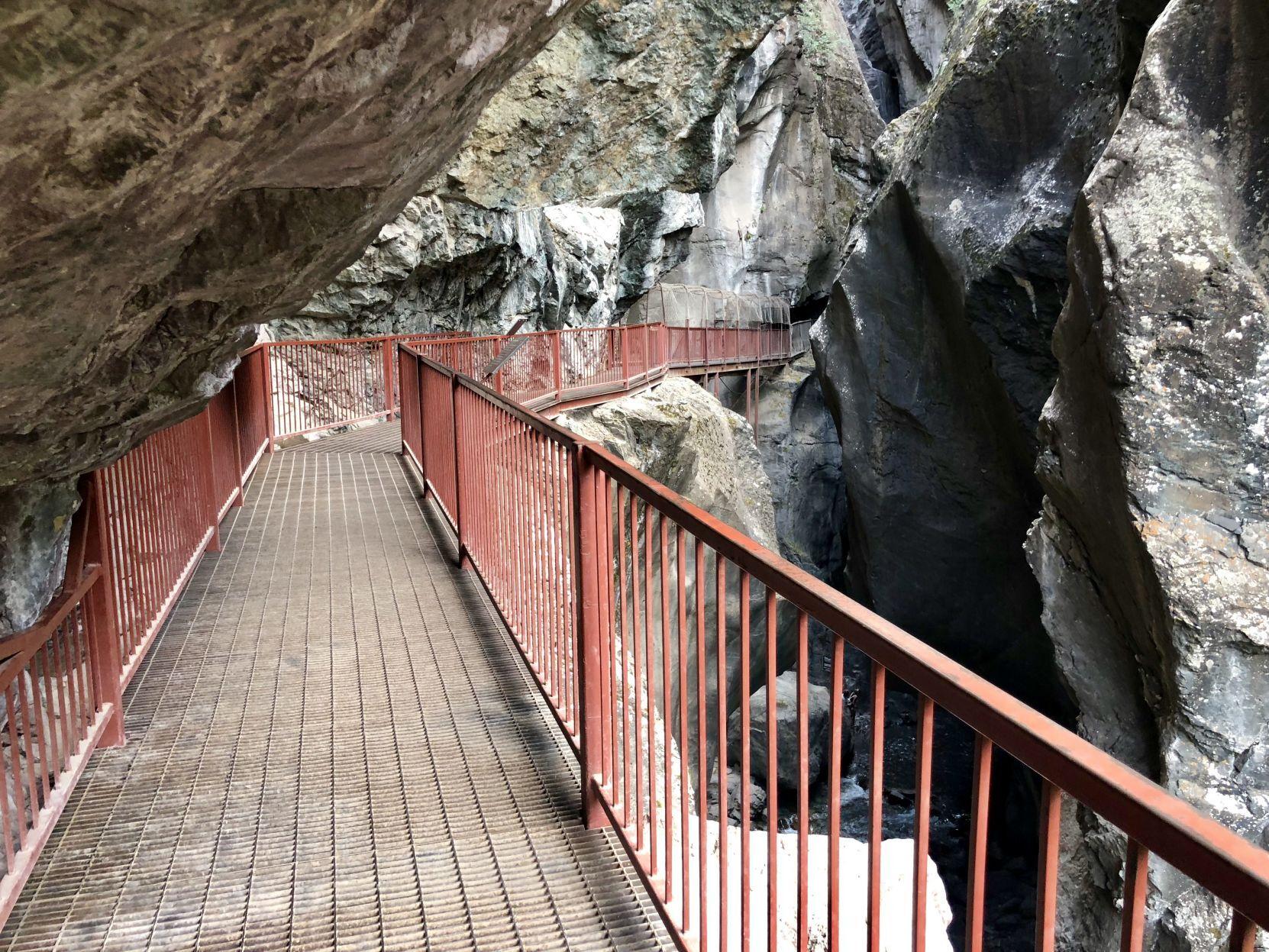 Nestled in the charming town of Ouray, which is about 2 hours southwest of Breckenridge, Box Canyon Falls is a hidden gem that is worth exploring. This breathtaking waterfall is located in a narrow box canyon and can be reached via a short, scenic hike from the town.
As you hike along the trail, you'll be surrounded by towering cliffs and lush vegetation, until you reach a viewing platform that offers a mesmerizing view of the waterfall plunging down into the canyon. The sheer power and beauty of the falls are truly awe-inspiring, and you can feel the mist on your face as you stand in awe of this natural wonder.
In addition to the waterfall, Ouray is also known for its natural hot springs, which offer a perfect way to relax and unwind after your hike. You can soak in the soothing mineral-rich waters and take in the stunning mountain views, making for a truly rejuvenating experience.
Discovering the Beauty of the Dillon Reservoir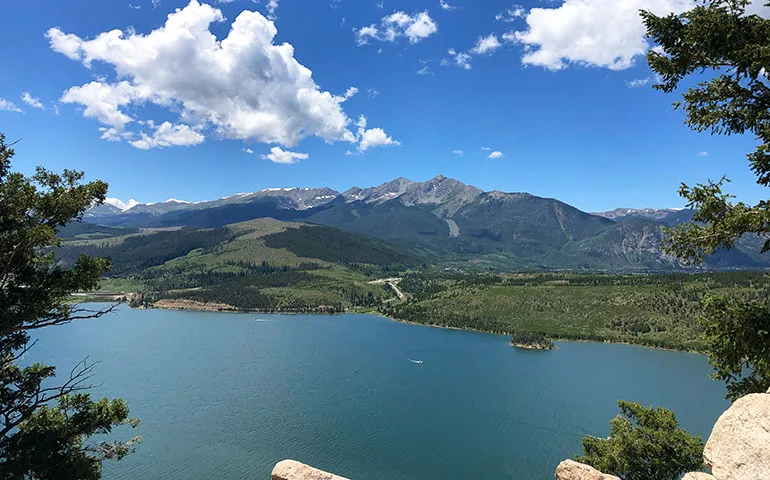 Located just a stone's throw away from Breckenridge, the Dillon Reservoir is a man-made lake that offers a peaceful escape from the hustle and bustle of everyday life. With its pristine blue waters and scenic mountain backdrop, the reservoir is a popular destination for boating, fishing, and hiking.
One of my favorite ways to explore the Dillon Reservoir is by taking a scenic boat tour, which allows you to take in the stunning scenery while learning about the history and ecology of the area. You can also rent a kayak or paddleboard and explore the tranquil coves and inlets at your own pace, or simply relax on the shores and enjoy a picnic while taking in the breathtaking views.
If you prefer to stay on land, the Dillon Reservoir also offers several scenic hiking and biking trails that meander along the shoreline, offering stunning vistas of the lake and the surrounding mountains. The Sapphire Point Overlook Trail is a popular hike that offers panoramic views of the Dillon Reservoir and the surrounding peaks. It's a moderate hike that takes you through lush forests and open meadows, with several viewpoints along the way where you can pause to take in the stunning scenery.
conclusion
Breckenridge and its surrounding areas offer a plethora of Day Trips from Breckenridge options that cater to a wide range of interests. From the majestic Maroon Bells in Aspen to the historic town of Leadville, the scenic Box Canyon Falls in Ouray, the serene Dillon Reservoir, the relaxing Strawberry Park Hot Springs, and the natural beauty of Rocky Mountain National Park, there are endless opportunities for adventure, relaxation, and exploration.
So, whether you're an outdoor enthusiast, a history buff, or simply seeking to unwind in nature, Breckenridge and its neighboring destinations have something for everyone to enjoy. Plan your next-day trips from Breckenridge and get ready for an unforgettable Colorado adventure!
Read our Related article: